Risolva - making long stories short.
Whatever we do,
we increase the knowledge in your company.
we do not theorize but leave visible results.
we offer solutions that do a lot more than reducing workload.
We do not steal away after a project but we want to be sustainably evaluated for what we do.
We are your right-hand man.
In contrast to many EHS consulting firms we usually do not offer appraisal services. We do not conduct measurements, analyses, inspections or tests. For these tasks we trust our partners.

Instead, we understand ourselves as the right-hand man of your company. We do know and will show you how to implement entrepreneurial obligations into the day-to-day practice in the best, easiest, most cost-effective and legally certain way.

We bring knowledge into your company to make your work easier, trouble free and legally certain. You do not only receive paper or data, but precisely what you need to know. You benefit from our cross-sector experience: We know the existing solutions and which of them work for others. This is the reason why our (software) tools are already essential in many companies.

By the way:
Our target is - wherever possible and legally acceptable - to make you independent from experts! Sure, with this approach we make ourselves dispensable. But this is our objective: to make your long story short by solving your problem precisely. Of course we are happy if you contact us with any other question.
We cooperate with you.
We relieve you from legally required work that you would be able and allowed to do yourself. Not conducting tasks like updating the legal register, investigating legal requirements, preparing explosion protection documents or the necessary project management… personally makes sense because
we know where to look instantaneously
you may not have time (for this issue)
you could spend your time more effectively
the prophet's opinion mean less in its own territory.
During internal strategic projects we are at your side from the start-up idea to the roll-out. We are not ashamed of working as a extended desk of our customers. Due to our methodical/conceptual skills we conducts tasks such as collecting and evaluating EHS data, preparing presentations, finishing, lay-outing and reviewing environmental or sustainability reports etc. in a professional and aesthetically attractive manner.

Regardless whether we operate as extended desk or developing strategic concepts, we are entirely committed to your company: if inappropriate for you, our company name will not appear in any document.
We succeed when you do.
We all are Risolva. The nature of each individual is the basis for the success we provide you with - and thus for our success.
Just because we are morally and mentally fit,
we are attentive and open-minded.
As a result you experience us positive and interested.
And all of this leads to your and with that to our success.
Therefore, all our decisions are based on our pyramid of values. We act and assess the relationship to our environment accordingly.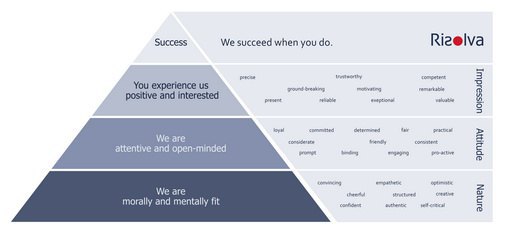 Expertise
You may not only expect a profound professional expertise in EHS requirements and their implementation but also a sound methodical and conceptual approach. This combination allows us to make your long story short.
Read more »
Team
Anja Blum, Laura Czichon, Dieter Hubich, Andrea Wieland - with our sound professional experience, there is almost nothing we have not done before. However, every single project, every customer, every task is new and exciting. That is why we are looking forward to the tasks you may have for us – every day.
Read more »
Our customers
We will be a good match, if you are a manufacturer, medium-sized enterprise with one or more facilities in Germany, or a separate facility within an (international) group.
Read more »
Our commitment
According to our self-understanding (see our pyramid of values) we are successful because we act and work as part of a community and a network. Therefore, it is only logical that we engage beyond of our actual business operations.
Read more »